Targeted Bankruptcy Leads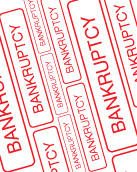 Create custom-tailored marketing lists using our Basic Bankruptcy Selects and Premium Bankruptcy Selects list options to target an audience who may be in need of specialized financial services. An increase in nationwide Bankruptcy filings is just one of the many consequences related to tough economic times. Many consumers have either reorganized their debt in a Chapter 13 filing or discharged their debt in a Chapter 7 bankruptcy leaving them with unfavorable credit and a greater need to get a "fresh start". Companies who offer credit repair, special auto financing, mortgage re-financing, and tax debt help can utilize bankruptcy mailing lists to increase their market presence and business revenue.
Basic selects
Use a combination of the following parameters to select your bankruptcy leads. Selects below are included in the basic price and are NOT an additional cost. The file you receive from us will include all of the following information.
Petitioner's name.
Type: One or any combination of bankruptcy filings of chapter 7, 11, 12 or 13.
Status: Bankruptcy status
Filing
Discharge
Dismissal
Date: You may also generate your bankruptcy mailing list based on dates shown below .
Filing date
Discharge date
Dismissal date
Region: You may select the region by using only one of the following selections. You can NOT combine selections. The addresses you receive back from us are already NCOAed.
Phone area code
City
County
State
Zip code, up to 15 zips
Range of zip codes, for instance e.g. 90001- 90066
Radius around an address or zip code
Homeowner: You may select homeowners, renters or both.
Cost for basic selects
Price below is for Basic selects. Minimum purchase is $250 per order or 1000 records.
| Quantity | Price per record |
| --- | --- |
| 800-2,500 | $0.25 |
| 2,501-5,000 | $0.24 |
| 5,001-7,500 | $0.23 |
| 7,501-12,500 | $0.22 |
| 12,501-17,500 | $0.21 |
| 17,501-22,500 | $0.20 |
| 22,501-27,500 | $0.19 |
| 27,501-32,500 | $0.175 |
| +32,501 | $0.15 |
Premium selects for bankruptcy leads
Loan to Value Estimated: A percentage calculated by dividing the home loan amount by the current market values of the home occupied by the owner. ($15/thousand)
Length Of Residence ($7.50/thousand)
Home Loan Date: Date the homeowner purchased the home. ($15/thousand)
Gender: Guessed based on first name. ($5/thousand)
Dwelling Type: Indicates the type of dwelling. Single family dwellings are residences for one household. Multi-family dwellings include units with an apartment number and units without an apartment number, excluding known homeowners. ($7.50/thousand)
Children Present ($7.50/thousand)
Age of the first individual in the household ($10/thousand)
1st Home Loan Value Amount ($15/thousand)
Estimated household income: Based on the following ranges. ($7.50/thousand)

Less than-$15,000
$15,000-$19,999
$20,000-$29,999
$30,000-$39,999
$40,000-$49,999
$50,000-$74,999
$75,000-$99,999
$100,000-$124,999
$125,000 and over
Our bankruptcy leads
Our bankruptcy database contains more than 20 million Bankruptcy Leads of business and consumer bankruptcy filings, dismissals, and discharges under the following chapters:
Chapter 7 bankruptcy
Chapter 11 bankruptcy
Chapter 12 bankruptcy
Chapter 13 bankruptcy
Contact Us
For great quality and low cost marketing services, call 800-475-2571 to speak with one of our highly experienced sales representatives today!